I have been having a healthy debate with a good mate of mine over the last week or so about who should be in England's 23 to go to the European Championships this summer. Now I don't think either of us have particularly high expectations about England's chances, but that doesn't mean that we wont be supporting them.
The debate itself has been kick started by two things - the appointment of Roy Hodgson as England manager and the return(?) to form of Andy Carroll. We both actually are in favour of Roy's appointment. Given that I have no expectations of victory I think he may be a good choice to get the best out of a group of players tactically, as long as they listen to him. The problem however is that I think he is best when dealing with a group of players who know that they have limitations, whereas most potential England players have been brought up thinking they are the best in the world and have egos to match and he struggled with the egos at Liverpool. The Andy Carroll situation I'll discuss below.
Anyway, I'm going to analyse here who I would take in my squad plus who I think Roy will take. This is complicated by the fact I reckon Roy will probably go 4-4-2 as opposed to my preference for 4-3-3.
Goalkeepers
It is good that England finally have a first choice again. Joe Hart will start every game unless he's injured/suspended. I would have had him in my starting XI for the World Cup so it have felt vindicated to see him play every game since.
There are relatively few other options I've always felt that Scott Carson was treated harshly, by England whilst Rob Green was overrated. Ben Foster has been fairly consistent and given that Roy has managed him I'm sure he'll go. Ideally you would convince Paul Robinson that he wants to be part of it. David Stockdale is the only other name that comes to mind but he struggles because of never holding down a first team place at Fulham and having to go out on loan. He is still relatively young at 26 so it might be good to take him for some experience.
Defenders
The main decision here for me is whether you take Rio or Terry, both or neither. This is because it will probably effect the rest of the selections. Personally I don't think you can take both. They key to tournament football is to make sure you have a good group of players who are working together. In particular your partnerships all have to function.
Therefore, for me, this is a a make your choice selection. I think if you take Rio, you'll probably should end up with a Man Utd player next to him (as first choice), if you take John then you end up with Gary Cahill starting. Personally, a year ago I'd have only considered John, however the last 4 months or so I've been really impressed every time I've seen Rio. Also, with John's personal issues I'd suggest that maybe he'd be the better one to leave out.
Defence is actually one area with quite a few choices to make. For right backs there are Micah Richards, Glen Johnson and young player of the year Kyle Walker. Not to mention this spot could be filled by the United pair of Chris Smalling or Phil Jones, who can also both play Centre Half giving a bit more option. In fact taking one of these two could mean only selecting 7 defenders when I would usually take eight.
In addition to the United pair, you also have, Michael Dawson, Phil Jagielka, Gary Cahill, Ledley King and Joleon Lescott all with a real chance of being on the plane. If you leave behind both Rio and John then one partnership with experience of playing together is that of Phil Jagielka and Lescott, which may be worth exploring. However I've personally always thought Lescott was over-rated. In an area where I think we have a lot of good players I don't think he's the best and definitely wouldn't be in my 23 - but I can understand the argument for him going.
At left back there is the standard first choice of Ashley Cole, there rarely seems to be any debate about this. However we have a couple of other options. One of the best crosser's in the Premier League is Everton's Leighton Baines, he has a wicked left foot and can strike a great dead ball. There are also Kieran Gibbs and Stephen Warnock, I think Gibbs may still be too young and Warnock may have missed his chance.
Midfielders
Scott Parker has probably played his way into most people's starting XI. In fact I would probably make him my captain. I have always thought he was a bit overrated, but at the same time he almost never puts in a bad day at the office.
This is an area that usually there are so many players to chose from, however looking around I was really struggling to pick players. England's best two centre midfielders in my opinion are Paul Scholes and Jack Wilshere, neither of whom will be available (Scholes through choice of course).
I've always thought England's reliance on Frank Lampard and Steven Gerrard over the years has held them back (despite stating that they would have been my two choices last World Cup). In fact, along with Gareth Barry I feel that the reason they've excelled at club level is down to the players around them which cover up their own limitations. For me both Jack Wilshere and Tom Cleverley are much better prospects from an attacking point of view, however Jack wont be there and Tom hasn't played enough games for me (I'd send him to the Olympics). I personally would only take Steven Gerrard out of the those I've mentioned.
Then you are left with younger players. I think this season has been far from good for Jordan Henderson at Liverpool, every time I've watched him he's disappointed me, this is frustrating as I had been really impressed when he was at Sunderland. Jack Rodwell seems like a good prospect but still is only a prospect. James Milner is one who I think could play that role of a third centre midfielder. Having ruled out so many in my mind gives Phil Jones even more likely chance of going with his versatility meaning he can also do a job in midfield.
One person I've been really surprised that no-one seems to be talking about is Michael Carrick. I was slating him for about 2/3 years. I thought he'd really regressed. However when Man Utd went on their outstanding run of games he was a different animal, in fact I'd say he's been excellent for them all season. He was the second midfielder on my team sheet.
Forwards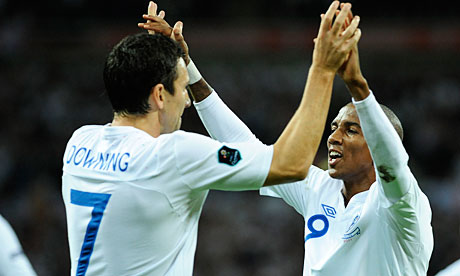 This section also includes my attacking wingers. This is one area that I'm finding impossible to say who Roy will chose. There are so many options to go for - some of whom can play upfront too. Ashley Young, Aaron Lennon, Adam Johnson, Theo Walcott, Stuart Downing, Danny Welbeck, Daniel Sturridge, Gabriel Agbonlahor and Alex Oxlade-Chamberlain all spring to mind. I would personally take quite a few of these!
Young seems to have had a great first season with United. Lennon and Walcott are both full of pace and running, Walcott seems to have done a lot better the last two seasons too for Arsenal - a massive improvement in his goal and assist returns. Danny Welbeck and Daniel Sturridge are guys in form. Adam Johnson has been a favourite in that position and can play on either wing. Stuart Downing however has disappointed me at Liverpool and not exactly set the world alight in an England Shirt. As far as I can tell Agbonlahor has had a reasonable season whilst Chamberlain is one for the future.
Joe Cole could also fit into this category, he's had a good year in France and shouldn't be ruled out - he could also play centrally in a 3, which could strangely be his best position.
The main problem with the striking position is of course Wayne Rooney missing the first two games. He's had a good season at United so this is really unfortunate. However I agree that he still should go. He is our best forward man so if we get through the group stage we would need his potential to stand any chance of going further.
Who else goes is a key question. For the 4-3-3 that I like, more of a target man is usually required, but these aren't necessarily the better players. Again, there are plenty to chose from, but whether or not they are of the desired quality is debatable.
Darren Bent seemed nailed on until his injury, now I don't think he'll go. Jermaine Defoe has got a lot of caps (46 - 15 goals), experience may end up getting him a place.
As for big target men, the main contenders are Andy Carroll, Peter Crouch, Bobby Zamora and Grant Holt's name has been banded about. I really hope Roy doesn't take more than one of these, however I would take one as they offer something different. Despite his goal return this season I can't see Holt making the list, nor can I see Zamora getting a seat on the plane. Andy Carroll's substitute performance (and apparently his performance in the following game - which I haven't seen) may well lead to him getting the nod, however I've always thought Crouch has done what's been asked for him at international level.
Squads
How many of these will still be there?
Okay, so here's the decisions:

Mine:
Joe Hart, Scott Carson, Ben Foster.
Micah Richards, Phil Jones, Rio Ferdinand, Phil Jagielka, Chris Smalling, Gary Cahill, Ashley Cole, Leighton Baines. Scott Parker, Michael Carrick, Steven Gerrard, James Milner, Ashley Young, Adam Johnson, Aaron Lennon. Wayne Rooney, Danny Welbeck, Daniel Sturridge and Peter Crouch.
Starting line-up:
----------------Hart-----------------
Richards - Rio ------Smalling - Cole
-------------Parker-----------------
------Gerrard ------Carrick---------
Walcott----------------------Young
---------Rooney(/Welbeck*)---------------
I know that side suffers from not playing together before, and it may struggle going forward if Rooney/Welbeck (*to play the first two games) can't get hold of the ball. Gerrard would be expected to get forward as much as possible and they would be expected to work triangles, in this sense we'll miss Wilshere and Cleverley. However if it's not working because of the opposition then it is always possible to change it, by sending on another striker and reverting to 4-4-2. The real worry is of course that it's not a settled defence which almost would prompt me to chose Terry over Rio and partner him with Cahill, but hopefully these could work together.
My prediction for Roy's:
Hart, Carson, Foster, Walker, Johnson, Terry, Cahill, Jagielka, Lescott, Cole, Baines, Parker, Gerrard, Lampard, Barry, Milner, Downing, Young, Walcott, Rooney, Welbeck, Carroll and Sturridge.

I fancy he'll be more defensive/conservative with his choices than me and then line-up with the Chelsea boys at the back and a midfield with Milner, Parker, Gerrard and Young. Due to the lack of real striking options he may even throw in Lampard to that mix and play with Carroll up front on his own until Rooney's fit. I wonder how many I'll get right!
No matter who we chose I think even making it out of the group would be a good performance, obviously I'll hope for more though.
Edit:
Chris Smalling is now out of the tournament through injury. I don't like it but that probably means I'd take Lescott instead, starting with Jagielka.
Edit 2 (16/05/2012):
It would appear that I correctly predicted 18 of Roy's 23. Out of those I thought would go Kyle Walker is injured and can't go and I'd forgotten that Ben Foster didn't want to go.
Disappointed that Lennon and Carrick didn't make the cut but Stewart Downing did - even Tim Howard has more assists in the league than him this year. Pleased Chamberlain's got a chance but Lennon should be ahead in the pecking order. Also pleased to see John Ruddy in the squad - I totally overlooked him as nobody had been mentioning him, I would say he's a better 'keeper than Rob Green.